I have always wanted to have a set of genuine ruby jewelry because I am born in the month of July and ruby is my birthstone. But even now that I am already din my mid-30s, I still do not own a set.
I do not really obsess on owning ostentatious pieces like the pair of earrings below, but it would also be nice to have one because I can use it for nighttime events and other special occasions where you get to wear a gown. But since I do not always attend such parties, I will rule it out. Besides, this set of earrings alone can already be very expensive.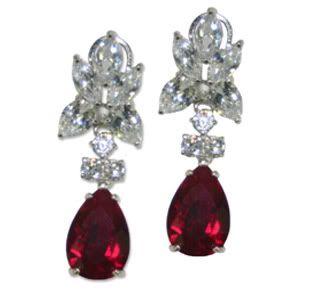 If ever, what I want to have is a ring and matching earrings in the design below. I could not find a photo of its matching pair. But this simple design makes it wearable for everyday use. I like cut of the ruby and it is set in the midst of small sparkly diamonds. Lovely, aren't they? I would really like a set for my birthday. If only I can afford it this year. Oh well, maybe next year again, right? I can continue on hoping and dreaming.

Or maybe I go around pawnshops and find a good deal among their "rematado" items, eh? Maybe I can share this dream to my friend Mommy Rubz who is also born on the same month?